My Zentangle journey has been unexpected and extraordinary from the very beginning. From how I came across it at the end of 2016, to the first time I picked up a pen on January 15th 2017, right up to today.
That journey so far will be the subject of a whole other blog because I so want to tell you about how, in just 1 year, I ended up teaching Zentangle in India.
My own Zentangle practice has always been all about the process, the way that the structured, repetitive drawing creates a calm which leads to a sense of mental and emotional wellbeing. My practice has allowed my very often over busy brain a chance to rest and for me to find focus and a sense of direction.
This sense of wellbeing, stress relief, empowerment and pleasure is also what I want to give to others through my teaching.
At the end of August 2017 I was invited to a talk in a little village hall in rural Herefordshire, UK.
This presentation was by Dr Meeta Singh, the Director of The Dignity of Girl Child Foundation based in Jaipur India. DGCF supports, educates and empowers girls and women.
Little did I know that her passion and dedication to improving the lives of women and girls would inspire me so much. I could instantly see how Zentangle could give these women and girls an opportunity to improve their well-being, self-worth, self-esteem and sense of achievement…..after all; it had done that for me.
On that afternoon Meeta asked me if I would go out to India and teach groups of girls. I had no hesitation in saying yes.
Only when I got home, full of excitement did I realise what I had let myself in for! For a start how was I going to afford all the materials I would need in order to teach 120 girls over a 2 week period?
This actually grew to over 240 students!
That night I put together a Just Giving Crowd Funding page and put it out on my Facebook page (Zenjo Zentangle) and shared it on the Zentangle Mosaic App.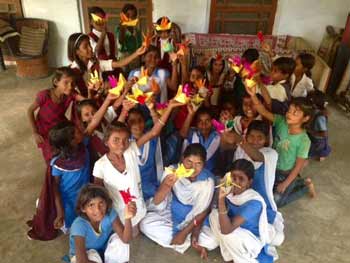 Within 2 days I had £400….I was blown away by the generosity of the Zentangle community, my friends and colleagues but this was just the start. It is tough asking for money and donations but I kept putting it out there. I had worked out the minimum amount of materials I would need. The donations kept coming in and I kept asking. I finally ended up with just over £1200.
That sounds a lot but it doesn't go far when you want to supply the best quality you possibly can….I was insistent that we did not drop the quality at any point. I value my Zentangle and I wanted the women and girls in India to have that same experience.
I was then contacted by CZT Sukesha Chandarana, from Mumbai. She offered to join me for 3 days to help with the teaching which was great but she was also able to access local suppliers so that the money I had could go further.
I had booked my flight and got my visa and the 8th January came romping up very quickly. A long drive to Heathrow, two flights and 13.5 hours later I was walking out Jaipur airport and being welcomed by Meeta.
We drove (her driver, Mukesh, drove!) through Jaipur and I had my first taste of the vibrancy and life of India – vehicles, people, noise, colour.
Meeta and her husband, Ashok, live in a quiet suburb and I was truly welcomed as part of the family. Their generosity and openness made me feel instantly at home.
It was only once I there that I could see all the materials I had had sent to India or brought with me. I had taken a huge bag full of rolls of my favourite wallpaper for demonstration tiles, pens donated by Royal Talens and everything extra I could think of!
Seeing it all laid out on their table literally brought tears to my eyes, the first of many happy tears during my trip. I was overwhelmed with what was in front of me.
Generous financial donations and donations from Maria Thomas of Zentangle Inc. and Royal Talens. Boxes of pens, pencils, tiles (5000 of them!) tortillons, sharpeners, bags and more.
Sukesha arrived the following evening and we immediately 'hit it off'. Sometimes you meet someone with whom you feel a link, a bond. We had been on the same CZT29 seminar the previous June but had not even spoken!
That evening, with Meeta's daughter, Mansi, we put together 150 bags with starter kits. What fun this was! It was like wrapping Christmas presents.
That is how I felt.
I was going to be giving the wonderful gift of Zentangle
Thursday morning and we went to a Government School in Jaipur. I had absolutely no idea how many children would be in the group. I was told anything over 30.
There were 72 children aged 7 – 14 years plus teachers and social workers!
No problem! I was prepared. I had lots of materials. I knew what we would be teaching. I had Sukesha and Mansi with me to help with translation. Sukesha and I shared the teaching and we easily fell into the same style with no question as to who did what.
It was amazing! The kids were like Zentangle sponges enthusiastically listening and watching before their heads went down and they started tangling and the 'Zentangle hush' descended.
There was no hesitation only an excited willingness to learn. We did have to overcome the kids all wanting me to individually praise and check each and every tangle they did but we did this by explaining that it was their work and if they were happy and enjoying the process that was what was important.
When we came to the Mosaic at the end of the lesson there were cries of excitement and lots of noisy chatter. A little girl came up to me and stood in front of me, she looked at me and quietly said, "Thank you, Mam."
Cue another tear in my eyes moment.
Over the next two days we returned each morning. The kids were all ready for their class. We had given them 'homework' of a tile they had all pre strung but I gave them free rein to do what they wanted….each and every one came back with a completed tile.
Put this into context.
Many of these kids had no shoes. The meal they got at school may be the only meal they get. They had very little yet they all kept their bags and pens and all took the time to tangle on their own and to be very proud of what they had created.
Not only this, but the teachers had also done the 'homework' and they, too, enjoyed a sense of achievement as individuals.
By Day 3 the kids knew the score….gratitude, corner dots, border, string etc so we switched it and gave a pre strung tile. I will admit that Sukesha and I had individually drawn the string on over 150 tiles the previous evening…helped by a glass of wine!
They tangled and it was only when we put the tiles together to form the Mosaic that they could see the worth of what they had done as each had done a corner 'plate'.
Just picture a group of 9 year old girls coming to look, hands to their mouths, jumping up and down with excitement. This was a moment to treasure.
Outside there followed a fun session of drawing around their hands and tangling the shapes. I am not really who enjoyed this more, the children or the teachers!
For the 3 afternoons we went to a slum settlement on the outskirts of Jaipur to teach a group of 15 – 20 girls. We had no class room, just a brick platform with a rough roof. There were no tables or desks but we had a mat on the floor.
This was one of the best experiences!
Sitting on the floor surrounded by girls aged 7 – 19 who all wanted to learn was energising. My pre conceived thoughts went completely out the window. They were articulate, bright, dextrous, artistic, focused and very funny! The pride they had in creating their tiles was a joy to see.
I introduced some coloured envelopes and some metallic Gelly roll pens and they produced some wonderfully tangled gift envelopes.
But as always, I really did not mind how the work looked at the end as long as they had enjoyed the process and were happy with what they had done. Having said that, each and every girl created a tile or envelope of beauty.
A couple of the older girls were very keen and helped with translation. On the last day I was unable to stay for long but asked, Jyoti, who is 19, if she would be happy to show the other girls how to do another tile. She did not hesitate and I quickly took her through a simple string, and some of the previous tangles. As I left she was clearly instructing the other girls and they were listening.
I thought of all the people I meet who doubt themselves, that includes CZT's, yet here was a young woman who lives in a slum, had had 2 afternoons of Zentangle teaching and believes in herself enough to help others create their own Zentangle.
Awesome.
Tears in my eyes again!
These girls have little, they live in poverty but they also have a lot…a lot of joy, happiness, enthusiasm, intelligence, humour and a willingness to learn that outstrips any negativity.
They are beautiful.
During this first week I also taught others in one to one sessions – Mansi, Meeta's daughter, Ashok, Meeta's husband (and a top eye surgeon) and Mukesh their driver.
Mukesh's family live in a village 50 miles outside Jaipur and he went home for my first weekend and on the Sunday evening he sent me photos of his family all holding completed tiles! He had taught them what he had learned about Zentangle. He continues to send me regular updates and pictures of his tiles.
During my second week we travelled to Khandar village, 5.5 hours from Jaipur and only an hour from the famous Ranthambore Tiger Sanctuary.
We stopped in Ashok's family house, a grand old building which was overlooked by the nearby Khandar Fort. This was a piece of rural, simple and quiet heaven with wild peacocks wandering around the grounds.
The local village is very poor. On my first day Meeta had arranged for a group of village women to come to the house for a Zentangle lesson.
These women are illiterate and have had no formal education.
Very quickly I realised that I had to teach them how to hold a pencil and pen before I could venture into showing them Zentangle but they quickly learnt and the process of teaching them the basics of the Zentangle Method enabled them to become increasingly confident.
Again we had no class room so were sat on the floor. There was chatter and waving of pens to get my attention and I found being down on their level, face to face, enabled me to quickly build up a rapport and make them feel safe in this unfamiliar situation.
On this first day they did ask me how long it would take….as they had to get back to milk the buffalo.
We offered them another lesson the following day and I was unsure as to whether they would return but all, bar one, came back.
They were keen to show me what they had done since their first lesson and wanted to learn more. We sat on the floor on the veranda of the house, drinking chai and tangling. I made a point of telling them that creating Zentangle was just for them. They are busy, hardworking women who do little, if anything, for themselves. I told them that they were important and that teaching them was an absolute pleasure.
These women are illiterate and have had no formal education.
Very quickly I realised that I had to teach them how to hold a pencil and pen before I could venture into showing them Zentangle but they quickly learnt and the process of teaching them the basics of the Zentangle Method enabled them to become increasingly confident.
At the end of the session I couldn't get them to leave! There was no mention of the poor buffalo waiting to be milked! They each hugged me and giggled and eventually wandered off back to the village.
For two mornings I also taught a group of older children, adolescents, at the local school. As with all the other groups they enthusiastically embraced the Zentangle Method with the teachers suggesting that they do a tangle every morning before lessons.
We travelled back to Jaipur and on my last 2 days I taught at a short stay shelter home for disadvantaged women. Many of the women are victims of domestic violence and are traumatised by their experiences.
They were a small group of 10 women. Most of them were shy and not immediately willing to make eye contact with me but the fact that they had come to the lesson indicated that they wanted to learn. Also there was the director of the home and 3 volunteer support workers who just happened to be a professor of German, a professor of Sanskrit and India's first female reconstructive surgeon, now retired.
I followed the same process of the introduction to Zentangle, again sitting on the floor with them. I gave them homework of a pre-strung tile which they all completed and were pleased to show me the following day.
Well, what a difference in just one day! There were smiles and questions comments about how good they felt when tangling. I really couldn't have asked for more.
They went away smiling but one woman came back. She quietly asked me if all the materials I had given were for her to keep. She had never had a gift before.
I gave her a hug and she hugged me back. If I have made her feel better and changed how she feels in a positive way then my whole trip was worthwhile.
This was an exhausting but inspiring and life changing trip for me and all those with whom I came into contact. I met some wonderful people and the gift they have given me far outweighs what I have given them.
I was invited back before I had even left and now have to get more funding to support returning, continuing and spreading the Zentangle magic.